Mission: To promote driving less so all may live more.
Collision
My friend Charles visited Spain in 2016. On the evening of September 14th, he and his friend Robert were walking through Bilbao. They were in a densely packed area, crossing a cobblestone street. Robert was walking a few feet ahead. Suddenly, he saw a body come over his head and fall in front of him. It was Charles.

That's what the motorcycle did. Hitting Charles, it launched in him the air with the result that he landed on his head.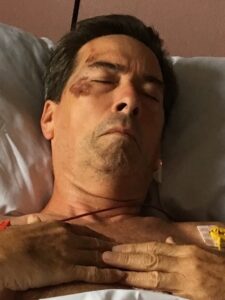 Rushed to the hospital, he was diagnosed with a traumatic brain injury (TBI). That was his diagnosis, but he doesn't remember it. Few with that diagnosis remember much at the time. He lost about a month of his life as a result. He wasn't in a coma. He could converse, but could not remember. His brain had bled in several spots, with the result, perhaps, that it had more important matters to attend to than to simply remember.
Medical Care
He was in the hospital in Bilbao for a little over a week, as best as he can tell. His wife flew to Spain to be with him. Finally, he was put on a medical jet and flown to Tulsa, to St. John Medical Center, a fitting choice not only because of its trauma center, but because he had been president of that organization until a few years earlier.
After about a week at St. John, Charles was sent to Craig Hospital in Denver, a renowned rehabilitation center. A team of specialists created a care plan for him, and he began speech, occupational, and physical therapy. In addition, he began eating eagerly after having lost significant weight over the past few weeks.
Part of his therapy provided him with an address nearby the hospital. The therapist would then walk with him, testing whether or not he could locate the address. He found this exercise useful, not only for the exercise and the proof-of-recovery, but because a small Italian restaurant caught his eye.
A few evenings later, he eloped, leaving without medical approval, and walked to the Italian restaurant. Treating himself to a steak dinner and a few beers, he was finally enjoying life again—that is, until his wife called from Oklahoma asking him where he was. Soon, Craig sent a male charge nurse to the restaurant to fetch Charles. A cooperative suspect, he returned to rehabilitation center.
The next day his physician, with whom he had already experienced some friction, was visibly upset with him, unable to accept the fact that the adventure had a happy outcome and wouldn't happen again.
After about three weeks, Charles was discharged and returned to home in Tulsa.
Recovered and Sued
In March of 2017, I visited Charles for a few days. Nothing in his appearance, speech, or personality betrayed the fact that he had nearly lost all those attributes. He was, in short, a fully recovered person, something he remains grateful for (as do I).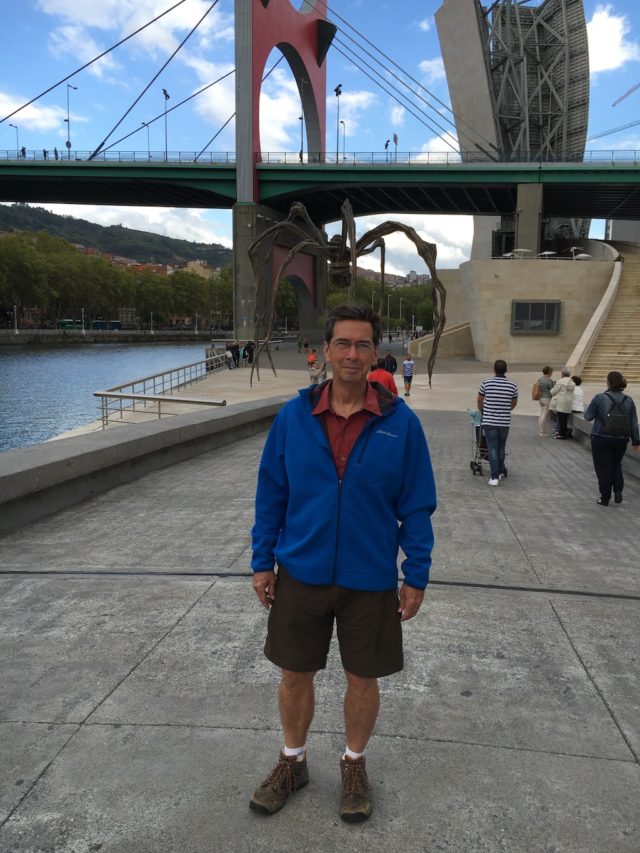 During my visit he received a letter from the attorney (we'll call him Rafael) of the motorcyclist (we'll call him Javier). It included a handsome check to remunerate Charles for his injuries. Oh, no! That wasn't a check. It was a bill for 6,079 euros (about $7,300). It included damage to the motorcycle and some kind of 52-euro-per-day disability pay to the cyclist.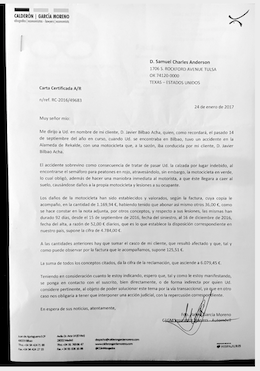 Of course, collecting the money after nearly killing a pedestrian is a difficult task. So difficult that later the attorney made a second attempt to coerce Charles into action, but, alas, he remains immovable in this respect.
What We Learn
As dangerous as it is to be a pedestrian in the United States, it is often more dangerous in other countries. In California the pedestrian has the right of way both in a marked crosswalk and an unmarked intersection.[1] Other states may not be as generous to pedestrians but they generally side with the pedestrian who is run over (vehicular homicide). By contrast, in Spain the pedestrian is subordinate to automobiles. Not only must the pedestrian be in a crosswalk with the light signalling an approved crossing, but the pedestrian must gesture to drivers that the pedestrian intends to make a crossing.[2]
Outside of Spain, things become even more precarious for the pedestrian. I was walking around downtown Denver with a friend from Costa Rica, ranting (mildly) about the traffic. He cautioned me, saying that if I stepped off the curb in Costa Rica as I had just done in Denver, no one would stop, not even after they hit me. I'm not sure how accurate his account is, but I do not plan to put it to the test.
____Footnotes____
[1] "Do Pedestrians Really Have the Right of Way in California?"