Mission: To promote driving less so all may live more.
He owns a very nice bike helmet, he says, and even wears it if he needs to ride in gnarly traffic. However, with dedicated bike lanes, such as along the West Side of New York City, he lets his (now) gray hair blow in the wind. He doesn't want to unnecessarily risk "helmet hair."[1]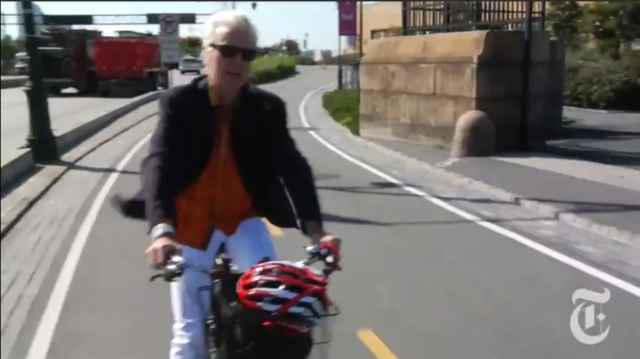 His hair wasn't gray during the approximately 15-year span of The Talking Heads, the band for which David was the front man. Liking much of his music, I am happy to comment on Byrne's relation to transportation (as I did with Leo Kottke). Unlike Kottke, though, who was primarily blowing off steam about other drivers, Byrne is an open spokesperson and proponent of riding bicycles, most of which he does in New York City (but not Los Angeles).
Byrne on Democracy Now
Recently, the news program Democracy Now devoted the entire hour to an interview between Byrne and Amy Goodman. We know he's no longer riding a bike because he's too poor to buy a car or catch a cab (some people assume that about people on bikes, especially about people without helmets). He does it for the pleasure and practicality it affords—as he has for years:
AMY GOODMAN: So, I wanted to ask you about riding your bicycle. I've been reading your books, How Music Works and Bicycle Diaries. You didn't ride it here today, but we often see you somewhere in town riding that bike. When did you start?

DAVID BYRNE: I seem to remember starting in the late '70s. I lived in Lower East Side and SoHo, and there wasn't a lot of taxi service there. Taxis, at that time, to me, would have been kind of expensive. And so, if I wanted to go hear some music or go see an art gallery opening or visit friends or this or that, I discovered that my old bike that I had as a child worked really well. And I abandoned it sometimes, but then eventually came back and realized, "Oh, this is a great way to get around." And now New York and a lot of other cities have become a lot more accommodating. There's a lot more bike lanes, and there's a whole bunch just announced the other day. There's a whole bunch planned to go in in the next couple years.[2]
We also learn that he rides primarily for the aesthetic experience, not necessarily to make a statement that might get others to ride. Put differently, as a bike activist he works to save the bicyclist rather than saving the world:
AMY GOODMAN: And, of course, now, with the whole issue of the climate catastrophe, you're leading the way.

DAVID BYRNE: Well, thank you, but I realized that I started doing it because it was practical and it felt good. It's a really nice feeling, unless you're terrified and you're riding in the middle of traffic. But if you're in a protected bike lane or something, riding along the river, it's really a wonderful feeling. It's hard to explain, just kind of coasting and steering and the winds blowing and all that. And I realized that feeling is what's going to convince people to do that. The effect is it lowers the carbon footprint, but you're not going to get to people — get people to ride just by saying, "You have to ride to lower your carbon footprint." It's very hard, I think, to convince people to do things because it's good for them or good for society in general.
His, "riding along the river, it's really a wonderful feeling," might encourage others to ride for the pleasure of it. We may or may not lengthen the lifespan of this planet, but we can certainly make it a more beautiful place—and enjoy it as such—while it lasts.
When He's not Riding or Performing
When he's not riding, performing, or composing, he has written books, created bike racks, and now offers the world reasons to be cheerful.
The book he wrote about riding, Bicycle Diaries, offers the reader "his thoughts on art, fashion, music, globalization, and the ways that many places are becoming more bike-friendly" (from the description on Amazon).


The bike racks follow themes that allow one to match them to their surrounding: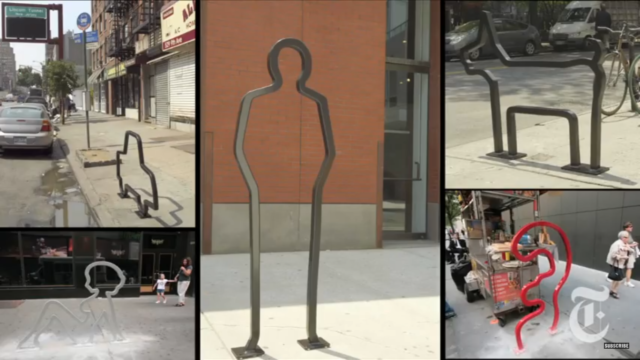 His new web site, reasons to be cheerful, allows him a much broader scope for changing the world. It's a solutions-oriented web log, involving his and others' writing. The titles on the current home page include:
"Ban the Bag!" (Byrne) about the evidence that fees for plastic bags as well as prohibitions are making a difference (although the opening discussion of India alone could make the project seem too formidable)
"How Toilets Saved the West" (Will Doig) describing the reduction in water usage by modern toilets (slightly over a gallon per flush) relative to those prior to World War II (about seven gallons)
"The Fixer: Darkening the Sky to Reveal the Heavens" (staff) as a news update, touches on how some programs at colleges and universities are helping students more than in the past (bridge programs), as well as how Holland is learning to use fewer lights at night (a noticeable difference from 2012 to 2018), making stars more visible, and even seeing a boost in the interest in astronomy
I for one am grateful that David Byrne has turned his creativity and energy in these directions (not that his musical on Broadway isn't deserving of his attention). Thank you, sir.
Here's the New York Times interview of Byrne on his bike (just over 4 minutes).

For those who came for the music, here's the "Once in a Lifetime," official music video:

____Footnotes____
[1] New York Time's interview, "David Byrne: Live on Two Wheels" (Youtube) (the relevant comment comes seconds after the advert).
[2] Democracy Now, Friday, November 29, 2019, "David Byrne on His Broadway Show 'American Utopia,' Talking Heads, Reasons to Be Cheerful & More" (transcription). The interview is also available as audio ("Listen") and audio-video ("Watch")