Mission: To promote driving less so all may live more.
Below are some recent events that chip away at the disproportionate role of the automobile in Western society (and, technologically, almost all society is Western).
Everywhere: Protected bicycle lanes make even automobile drivers safer
Colorado: New legislation increases penalty for drivers who hit vulnerable individuals
Spain: People protest automobile pollution in Madrid
Protected Bike Lanes
As reported in "CU Denver Today" an extensive study recently concludes that adding protective bike lanes (i.e. lanes with a physical barrier, not just paint) to city streets not only makes the bicyclists safer but all the drivers safer.[1]
The study points out that it is not an increase in bicyclists but apparently an increase in non-negotiable structures, such as protective bike lanes, that makes drivers more careful. One thing this conclusion means is that cities should build the protective lanes before waiting for an increase in bicycles (and bicyclist fatalities), knowing that the lanes will benefit everyone on the road from the outset.
The embedded video in the article deserves viewing, not only for being informative but for its animated sketching (3 1/2 minutes).
New Colorado Law Should Concern Careless Drivers
Recent legislation in Colorado (Senate Bill 19-175) adds consequences to drivers who hit vulnerable individuals (including pedestrians, bicyclists, and those in wheelchairs). According to a summary in Streetsblog, Denver, prior to the legislation, "drivers could severely injure someone in a crash and receive just a four-point penalty on their license. If the driver had a clean record, they could have caused injuries in three more crashes before having their license revoked under the state's 12-point system." (This is alarming.)
Under the bill signed into law May 29, 2019, "[n]ow, such an offense is a class-one traffic misdemeanor that could result in a license suspension, paying restitution to the victim and other penalties."
Protests Against Relaxed Law in Madrid
As many of us recognize, for several years the United States has been rolling back regulations against pollution ("83 Environmental Rules Being Rolled Back Under Trump" New York Times). Against similar moves, many citizens in Madrid are currently resisting their newly-elected mayor's recent rollback of a law that protected central Madrid from excessive pollution.
They are protesting during a historic heat wave in Spain. While spontaneously igniting chicken manure is not altogether uncommon, it does suggest temperatures that would make an outdoor protest uncomfortable.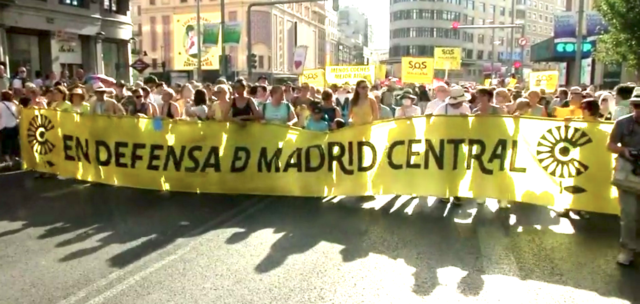 ____Footnotes____
[1] While I've provided a link to a December 2018 version of the study, a paywalled version bears a 2019 date, although I found no obvious differences when comparing a few sections.