Mission: To promote driving less so all may live more.
This is "person meets police" not "person vs. police," please note.
Tuesday, April 2, I discovered late in the morning that I had a business meeting in Denver. The only bus that would get me there on time is the "LD2," a regional bus that happens to skip my home town. So I decided to run out to highway 287 to catch it, which isn't a big deal or a long run (about a mile), except that there was no bus stop where I expected one.
So I began to run south along the wide-shouldered highway toward the real bus stop, a mile away. Meanwhile, time was running out, so when cars came by, I turned around and stuck out my thumb, hoping someone would give me a short ride to the next stop.
Nada.
When the bus approached, I held out my iPhone, attempting to show that I had just purchased the $10.50 all-day pass and that the driver should make an exception and pick me up. We had a friendly hand-gesture conversation as he passed, with me beckoning him to stop and him protesting.
Soon I was at the real bus stop but no more buses were coming for hours, so I turned around to go home. Just then, two big, black Lafayette police SUVs pulled over to the shoulder. One with lights stopped behind me. One without lights stopped right in front of me.
Knowing I had done nothing illegal, I proceeded to walk past the one in front of me, and as I did, the Officer (Todd) asked if I was all right. I explained the situation.
He paused for a moment, and then said, "I can take you as far as the Broomfield Park-n-Ride." That was a great option, since frequent regional buses stop there.
As I was about to get in the SUV, the other officer approached and asked Todd if he had searched me. It was awkward—Todd was about to help me and the other officer wanted to go by the book (I assume). I pulled out my cell phone and my running headlamp (I guess I was prepared for a long day), and Todd said, "Fine. Hop in."
And so we drove: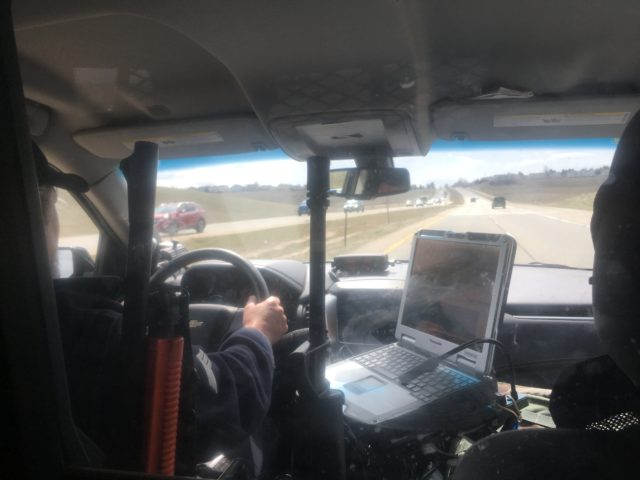 Todd[1] dropped me off and within a few minutes I was on the bus. When I arrived at the meeting a half hour late, the business owner asked, "So did you take the bus?" And I replied, "You mean after the police car?"
From the point of view of this web site, Person vs. Auto, my wish is this, that the person or people who called the police to alert them to the presence of a pedestrian on highway 287—that instead of calling the police, one of them would have stopped and given me the short ride to the bus stop. But I understand. We live in a culture of fear, people fear strangers even though most violence occurs among acquaintances, people feel helpless to help, and so they call professionals. It just seemed like a lot of commotion over nothing to me.
____Footnotes____
[1] I looked up "Todd" on the Lafayette Police web site in order to verify the spelling, but couldn't see him listed. An officer by that name was, however, part of a recent story that involved receiving a call that led to the rescue of a dog from Waneka Lake.
---
Next post is the promised "Driving Less in a Public Transportation Desert," a guest post from Marc Syrene, who converts his cars to use the diesel that he makes.